At Exportaciones Císcar we apply the controlled production, so that all the cultivation practices are realised respecting the integrity of the cultivation. Our technic norms of work take in account aspects as the field preparation, the sowing, the use of soil, the control of weeds, the watering, the control of plagues and diseases, the pruning, the fertilization, the harvest and register each exploitation.

Exportaciones Císcar obtain his fruits through its own fields in Játiva, Ribarroja and Canals, but also from externs farmers with a wide experience that produce high quality citrus fruits.

Through an active policy of know-how, Exportaciones Císcar gets to the client by means of distribution platforms of supermarkets (Tesco, Aldi España, etc.) or directly in markets situated in many countries like France, Czech Republic, Poland, Germany, Holland, Norway and Italy.

The different varieties that Exportaciones Císcar commercializes change according to climatology and demand.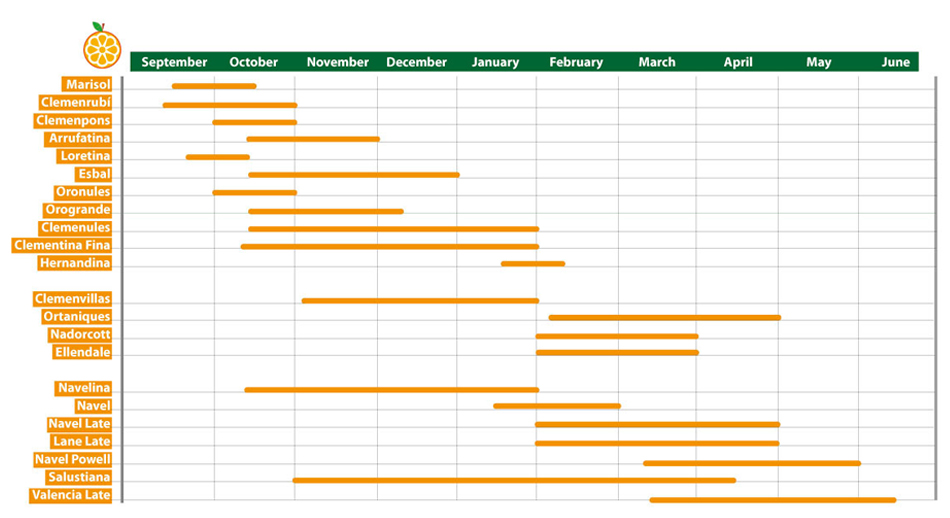 The preparation:
The preparation is realised according to the most demanding standards, making a special effort regarding to quality and presentation of the fruit. The more usual preparations are:
All types of case packing, wood, plastic or cardboard.
Packaging of different preparations according to the client needs.
The novelty:
During the 2012 campaign, the line with leaves (línea con hoja) started up, directly from the field to the table, with the objective to guarantee the total satisfaction of the clients and increase their pleasure when consuming our products.